Bulletproof .NET Code: A Practical Strategy for Developing Functional, Reliable, and Secure .NET Code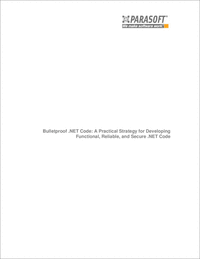 Is your development team among those who are turning to .NET languages to drive application logic for your business-critical SOA and Web applications? If so, you know that functional errors are not acceptable. Reliability, security, and performance problems can have serious repercussions!
Even with limited resources, there is a way to ensure that your code is free of implementation errors. In addition, you can also alleviate reliability, security, and performance problems. The answer is the implementation of a comprehensive team-wide quality management strategy.
Read this article to discover a simple four-step strategy that is proven to make .NET code more reliable, more secure, easier to maintain, and less likely to experience functionality problems.