Many .NET teams are underperforming, is yours?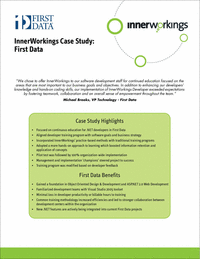 Read this case study to learn more about First Data's .NET training implementation, critical success factors, and tangible business results.
Application development is still a "dark art" and software projects continue to fail as often as they succeed. Why? At InnerWorkings, we believe that the people in your software organization hold the key to project success. After all, it is your people who write, test, and deploy enterprise software. If you don't support them, develop their skills, and reward excellent performance, we believe your projects have a far greater risk of failure.
Sadly, developer training is an afterthought in most software organizations. It is seldom aligned with business strategy and company objectives, so your people are left alone to learn new skills in a casual and ad-hoc manner. Books, informal mentoring, and search engine "dumpster diving" for code snippets can fill a short term need, but such tactics fall short in building a highly skilled team that consistently delivers superior software solutions on time and under budget.
Sponsored by InnerWorkings, this case study explores how First Data Corp invested in the success of their software teams by adopting a hands-on approach to .NET developer training. They immersed their developers in a 100% practice based .NET learning environment, with the specific goal of demonstrably improving skills in Object Oriented Design & Development and ASP.NET 2.0 Web Development. Not only did they succeed, but they also improved teamwork and motivation, and established a framework for creative collaboration.
Learn how to transform your .NET developer training program into a significant asset in today's competitive software environment.