Top Considerations for Ensuring .NET Application Manageability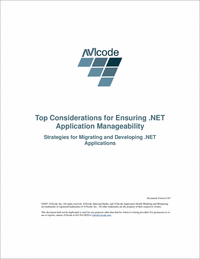 8 strategies for managing and improving new or existing .NET applications.
The .NET Framework delivers a compelling platform for building robust distributed applications. However, over two-thirds of the total cost of ownership (TCO) of these applications is incurred once the applications are deployed in production. Forward-thinking strategies and planning throughout the application lifecycle can help ensure application manageability while significantly reducing TCO.
This paper offers eight strategies for improving the manageability of .NET applications throughout their lifecycle, including:
Extracting and Verifying Business Rules
Building a Health Model
Evolving a Monitoring Solution and Incorporating Feedback into the Development Process